Looking for a Stocking Stuffer?
LLL Gift Certificates Make Great Thank-You Gifts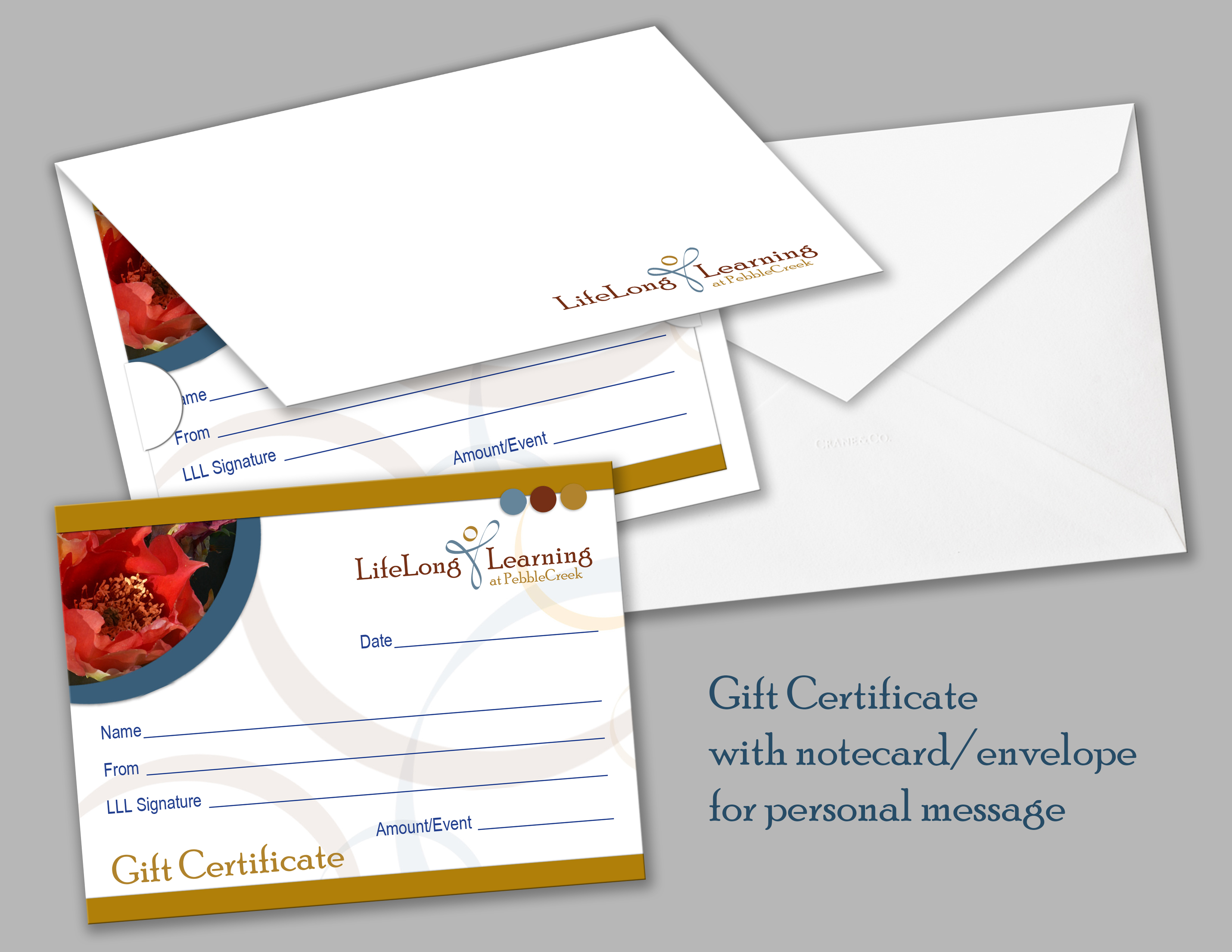 Looking for that a perfect way to say "thank you" to the person who walks your dog, changes your smoke alarm battery, took care of your mail when you were away, or was there to listen when you needed to talk?
New this year: Gift certificates available in any denomination you choose!
The gift certificates can be used for any LifeLong Learning program: Monday Morning or Premier Lectures, or class or trip registrations. When you give a certificate we will simply note the amount of the gift, and the recipient can use it however he or she chooses. We'll even keep track if only part is used at a time. Each comes with an envelope so you can write a note and mail it or put it into a stocking.
Just come to the LLL Center in the Eagle's Nest Activities Center any weekday morning from 9-noon Dec.1-16.
And these certificates are NOT just for the holidays - you can purchase them anytime,
Kare Bears Honors LLL Co-Chairs with Founder's Award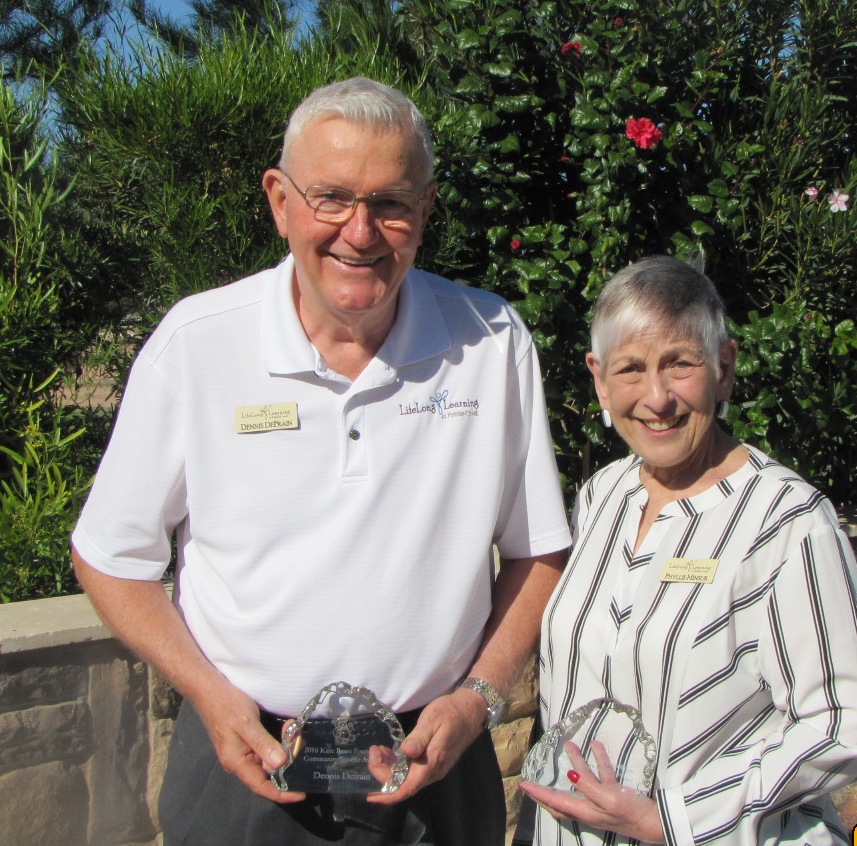 Phyllis Minsuk and Dennis DeFrain, co-chairs of PebbleCreek's LifeLong Learning organization, are the joint recipients of the 2016 Kare Bears Founder's Community Service Award. The award was presented at the Kare Bears annual Fall luncheon.
Phyllis Minsuk and Dennis DeFrain have been part of LifeLong Learning almost since its inception as an Education Club in 2004-05. After three lectures had been offered to the community, Dennis took on the responsibility of identifying and confirming speakers for Monday Morning Lectures and Premier Lectures, while Phyllis focused on expanding LifeLong Learning's offerings to include classes, trips and other programs to provide educational opportunities to PebbleCreek residents. She also brought new professionalism to the club, managing its renaming as LifeLong Learning and increasing the way its programs were advertised to the community.
In 2013, when the founding chair of LifeLong Learning stepped down, Phyllis and Dennis agreed to serve as co-chairs, positions they continue to hold.
As the LifeLong Learning board of directors wrote in their nominating letter: "A true partnership, they put systems in place to bring the club to a more professional level. They updated the bylaws, established a board of directors, applied for and were granted 501(c)(3) status, expanded the volunteer team, and asked for and were granted the use of space for the LLL Center."
"Phyllis and Dennis have raised the profile of LifeLong Learning, winning recognition from Active Adult Community boards," wrote Carole Korzillus, another resident who nominated the team. "Robson Communities' marketing and advertising now includes LifeLong Learning programs as further incentive to buyers joining the PebbleCreek community."
Kare Bears established the Founder's Award in 2001 to honor Rayma Scalzo, founder of Kare Bears. Each year this prestigious award is presented to a PebbleCreek resident – or in 2016, residents -- who demonstrate, as a volunteer, distinctive leadership and service qualities in any PebbleCreek organization(s) and in the surrounding community.