Registration opens at 8 a.m. Saturday, Oct. 10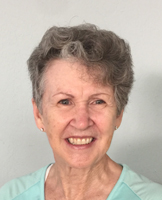 It might sound strange but imagine having a "good death" and what that concept entails. Join retired clinical psychologist, Dr. Cathy Lindstrom to learn how conversations, decisions and advance-planning discussions can give you more control over the process of dying when your time approaches, and more support for your survivors, as well.
Dr. Lindstrom, who specialized in geriatrics, says the class will:
Encourage you to think about how your life may end, and what you do, and most importantly, do not want to happen;
Offer ideas on how to talk to your family and others in your life about the end of your life;
Help you to develop your own guiding principles to direct your personal process of dying.
In addition, Dr. Lindstrom will cover things to consider, plan for, and discuss if you or a loved one has been newly diagnosed with dementia or any form of progressive cognitive impairment. Learn important information for the future at 1 p.m. Tuesday, Nov. 10.
This class will be presented via Zoom and is limited to 50 participants. The lecture is free but registration is required. Registered attendees will receive the Zoom invitation a few days prior to the event.
DATE: Tuesday, Nov. 10
ZOOM Check In: 12:45 p.m.
CLASS Time: 1 - 2:30 p.m.
COST: No charge
MAXIMUM: 50 - there will be a waitlist
NEW TO ZOOM? For support information, click Virtual Learning