Registration open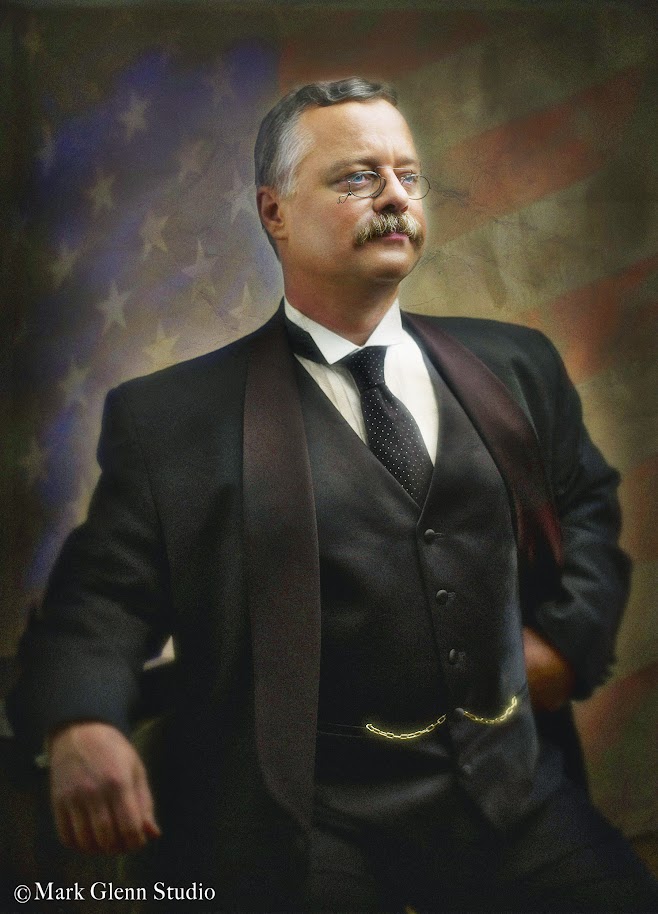 Joe Wiegand is the world's premiere Theodore Roosevelt "reprisor". As an actor and historian, Wiegand's portrayals of Theodore Roosevelt in live performances have been enjoyed in all fifty states and internationally. Join Wiegand on Friday, Jan. 13, at 7 p.m., for his enjoyable presentation of The Teddy Roosevelt Show.
Teddy Roosevelt was born in New York City, New York on October 27, 1858. He graduated Phi Beta Kappa and Magna Cum Laude from Harvard University and was the youngest elected member of the New
York General Assembly.

In the years to follow, he became a cattle rancher in the Dakota Territory and ran unsuccessfully for the New York mayorship. He served as a United States Civil Service Commissioner, President of the Police Commission of New York City, Assistant Secretary of the United States Navy, Colonel of the 1st United States Volunteer Cavalry, Governor of New York, Vice-President and President of the United States, all by the age of 42.
He was the father of six children and the author of over thirty books. He was a big game hunter, a leading ornithologist, and the founder of Boone & Crockett, the nation's first fair-hunting and conservation organization. During his presidency, he declared some 230 million acres to be designated as national parks, national forests, wildlife refuges, and national monuments. He was, indeed, the great conservation president.
Spend an evening with Teddy Roosevelt that will help us understand who he was and how his leadership & activism was a natural outgrowth of his life experience. His larger-than-life personality helped him in many ways to become one of the most respected and successful Presidents of the U.S.
Joe Wiegand will present an in-character presentation of Teddy Roosevelt and help us understand who he was and what he has meant to U.S. history.
Additional information:
Joe Wiegand is a political science graduate of The University of the South in Sewanee, Tennessee. Twice elected to head Sewanee's student government, Joe had earlier been elected Governor of the American Legion Illinois Boys State and President of the American Legion Boys Nation programs. Wiegand served as a graduate assistant at the Center for Governmental Studies at Northern Illinois University in DeKalb, Illinois, before launching his own business as a political campaign consultant and public policy expert. He has been named a Wilkins Scholar, a Harry S. Truman Scholar, and a Thomas J. Watson Fellow. He served six years as a member of the DeKalb County, Illinois Board of Commissioners. Joe was working in public policy and running election campaigns when he began performing as Theodore Roosevelt in 2002.
Wiegand lives in Medora, North Dakota, and he works for the Theodore Roosevelt Medora Foundation. He is a thirty-year member of Rotary International and a member of the National Association for Interpretation. His performance tour is highlighted in summer by a daily matinee in Medora, gateway to Theodore Roosevelt National Park and future home of Theodore Roosevelt Presidential Library.

Admission to all Premier Lectures is $15 per person and can be purchased online
or with cash in the lobby of the Renaissance Theater one hour prior to the lecture, subject to availability. Up to four admissions can be purchased in one transaction per LLL user account.

For online purchases, two to three days before the event, a QR code ticket will be emailed to each person registered. The QR code ticket is a personal code for each person registered and the printed or electronic ticket displaying the QR code is required for admittance. There is no will call.
LLL uses the credit card processing service of PayPal. You may use your personal PayPal account if you have one, or you may use a personal credit card to pay as a PayPal guest for LLL purchases. Follow the directions to pay with a personal credit card as a PayPal guest Paying with Credit Card FAQ
Contact info@lifelonglearningatpc.org if you have questions or need help with registration.


Registration limited to four (4) per event, for each LLL user account.

EVENT DATE /TIME: Friday, Jan. 13, 7 p.m.
COST: $15