Sept. 5: Where the Crawdads Sing by Delia Owens
Registration is full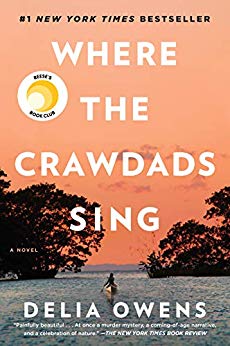 This first novel by Delia Owens is a true tour de force of storytelling. It portrays a keen eye for character development, vivid descriptions of the natural world, as well as a murder mystery enveloping the entire tale.
If you like Barbara Kingsolver, this is the book for you. The story is told through the eyes of a very young girl who is abandoned by her family and left to fend for herself in the marshes of North Carolina.
While the opening scenes are incredibly sad, Kya, our young protagonist, gradually learns to survive and even make several friends as she approaches her teenage years. Then, once again hit by tragedy, Kya has to fight for her life as she faces serious criminal charges.
What the critics are saying:
"A painfully beautiful first novel that is at once a murder mystery, a coming of age narrative and a celebration of nature...."
The New York Times Book Review.

"Steeped in the rhythms and shadows of the coast marshes of North Carolina's Outer Banks this fierce and hauntingly beautiful novel centers on Kya's heartbreaking story of learning to trust human connections...."
People.
"A lush debut novel, Owens delivers the mystery wrapped in gorgeous, lyrical prose. It's clear she's from this place-the land of the southern coasts, but also the emotional terrain- you can feel it in the pages...." Alexandra Fuller, New York Times bestselling author of Don't Let's Go to the Dogs Tonight.
PC Reads, LifeLong Learning at PebbleCreek is a drop-in book club. It meets the first Thursday of every month from 5-6:30 p.m. in the LLL Center. Water and light snacks are provided. It is a free program, but registration is required and opens one month prior to the session.

Upcoming books:
• Oct. 3-Sold on a Monday by Kristina Morris
• Nov. 7-Small Great Things by Jodi Picoult
• Dec. 5-The Book of Joy by the Dalai Lama and Desmond Tutu
Why not plan ahead and pick up books that we will be discussing in the next few months? Many are available at local libraries