Overfly Mesa aviation – civilian and military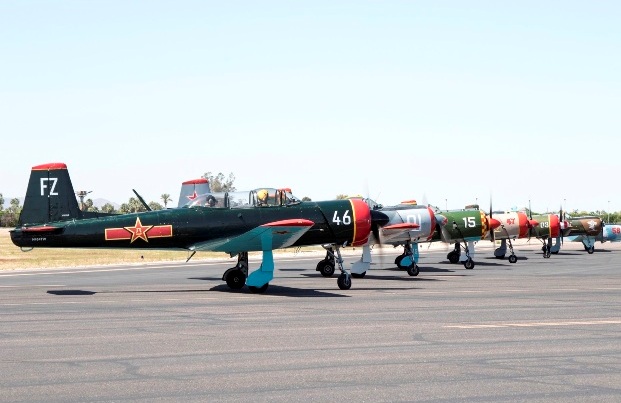 Immerse yourself in aviation, past and present, by touring Mesa's municipal airport and a nearby museum, where you'll experience the airport's history as a combat-training center for pilots during World War II.
You'll tour Falcon Field Airport, a general-aviation airport owned and operated by the City of Mesa. Your guide will show you how the airport operates and explain its aviation businesses and services, including its fire station and police-aviation unit.
Opened in 1941, Falcon Field was one of three military flight-training bases established in the Phoenix area in support of World War II. Training British pilots was its primary mission then. Today, much civilian flight and ground-school training continues.
At the nearby Arizona Commemorative Air Force Museum, you'll take an edu-venture through history and learn how aircraft evolved as a heroic partner to ground and sea operations from WW I to the present.
Museum docents will share nostalgic, inspirational stories and answer questions, while your tour guide leads you through collections of artifacts and exhibits. They include operational cutaways of complex radial engines, veterans oral histories, and many WW II aircraft, such as a B-17 "Sentimental Journey" bomb bay and a Grumman Guardian. You can climb aboard bombers, cargo planes and other rare, historical war birds. You'll walk through a working hangar and see volunteer aircraft mechanics bringing muscular engines to life, in preparation for their annual 50-city, 2020 summer tour.
You'll spend your lunch break nearby at The Monastery Bar & Grill, a casual neighborhood pub, surrounded by trees, grass and sand.
DATE/TIME: Tuesday, Feb. 18, 8:45 a.m. to 5:30 p.m.
COST: $ 75
MAXIMUM: 44
For more information, see: