Casa Grande National Monument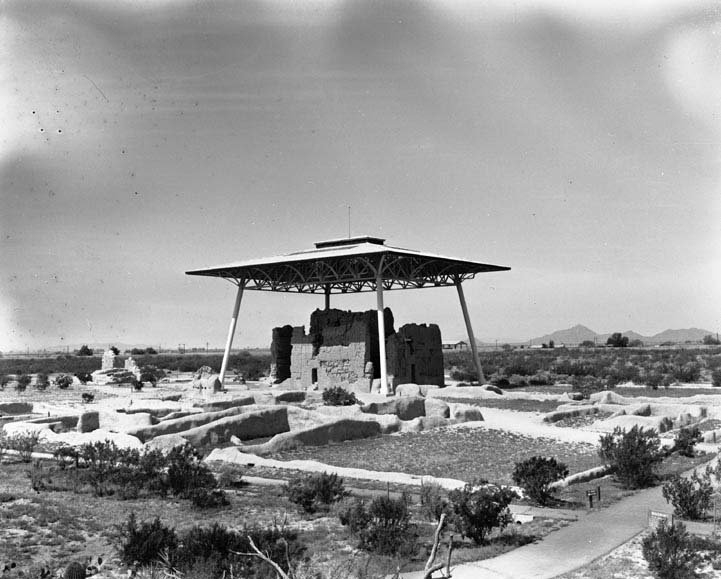 Our day begins at Casa Grande National Monument, one of the largest prehistoric structures ever built in North America, about 60 miles southeast of Phoenix. It was here that the ancient Sonoran Desert people developed wide-scale irrigation farming and extensive trading connections around 1350. An engineering marvel, the compound was active for more than a thousand years, until it was abandoned.
Casa Grande is a national monument, preserved to show and teach about the culture of the ancient people who tamed the desert and developed a canal system that continues to be the basis for agriculture today. We will tour the site, including the main building, which may have been a temple, solar observatory or granary, and explore the ruins of dwellings and a ball court, where team games were played 700-800 years ago.
Greek Orthodox Monastery
We will travel to a 12-acre oasis in the desert, the Greek Orthodox Monastery, established in 1995, when six monks arrived, carrying with them sacred artifacts from Athos, the "Holy Mountain" for early Christians. The monks planted vegetable gardens, a vineyard, citrus orchards and an olive garden and established an elaborate system of gardens, pathways, gazebos and fountains.
We will explore the gardens and stop at the monastery store, where cured-on-site kalamata olives, powdery kourabiedes cookies, and artisanal bread can be purchased.
Please note: The monastery requires male visitors to wear long pants and long-sleeved shirts. Women must wear long-sleeved blouses, long skirts and head covers.
Pinal County Historical Society Museum
We will enjoy a Greek lunch at Mt. Athos Restaurant before continuing to our last stop of the day, the unusual Pinal County Historical Society Museum. It focuses on the events and people who influenced the growth of Florence. The museum has many heirlooms donated by families to enhance the stories that the museum tells of the region's history.
DATE / TIME: Tuesday, March 13 , 8 a.m.-5 p.m.
COST: $75
MAXIMUM: 56
For more information see: