Sold out - register for wait list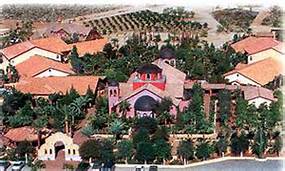 First stop: The St. Anthony's Monastery, founded in 1995 and started with a few monks led by Geronda Ephriam. Starting with just two trailers the Church and Monastery have grown both in size and population. It is now the largest Orthodox Monastery in the Western Hemisphere.
Once the basic structures were built, the landscaping progressed, citrus and olive trees were planted, a vineyard was planted, and other chapels were constructed. Today there are 9 chapels on the grounds with a main chapel for primary services and others used by the monks.
Come visit these magnificent grounds and chapels and see all that has been built in this living functioning Monastery. Since this is an active Monastery – we will see monks going about their daily duties and prayers and we are asked not to talk with them or even take their pictures. The Chapels are full of beautiful religious artwork brought from Greece.
There are dress code restrictions to visit the monastery. Women are kindly asked to wear long-sleeved, loose-fitting shirts that fully cover the chest up to the neck; long shirts or dresses without deep slits; scarves that cover most of the head and neck. Men are kindly asked to wear long pants and long-sleeved shirts. Please, no baseball caps or clothing with inappropriate words or images. Inside, especially in the church men are asked to keep their heads uncovered. Please do not wear high heels, platform shoes, or open-toed sandals.
Lunch stop: After the tour we will have lunch at Mt. Athos Greek Restaurant in the town of Florence for a taste of authentic Greek food.
Registration limited to two (2) per event, for each LLL user account.
EVENT DATE/TIME:

Tuesday, Jan. 10, 8:15 a.m. - 4:15 p.m.
COST: $70
MAXIMUM: 38