All Things Aviation

Registration open
Join us as we tour the Pima Air and Space Museum, the third-largest aviation museum in the world, featuring an impressive collection of more than 400 historic aircraft, from a Wright Flyer to a 787 Dreamliner. Sitting on 80 acres, the museum has six indoor exhibit hangars, including three dedicated to WWII, with more than 250,000 square feet of indoor display space organized by type of aircraft: Navy or Air Force fighters, tankers, helicopters, presidential aircraft, and more! The museum is a must see for anyone who is a fan of aviation history.
Upon arrival and entry to the museum we will receive meal vouchers that can be used anytime at the Flight Grill, during our visit.

Our tour begins as we board an open air tram for a 45-minute narrated tour through the museum's 80 acres. During the 1.5 mile circuit, you'll view over 150 planes and hear highlights of the more significant aircraft, such as a B-58 Hustler supersonic bomber and a B-36 10 engine bomber (one of only four remaining). Both of these planes played key roles at the height of the "Cold War."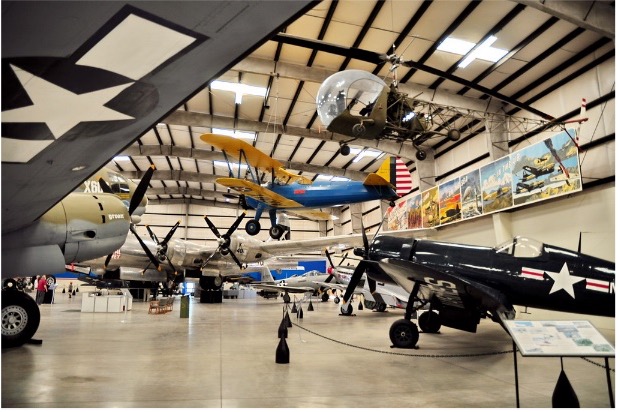 After the private tram tour, which will help get you oriented, you'll have ample time (10:30 am to 3:00 pm) to walk around the complex at your leisure. There is so much to see on this trip: all of the Air Force Century series fighters, WWII Bombers, Naval Anti-Submarine aircraft, SR-71 Blackbird, and a full representation of the Navy Fighter series of aircraft by Douglas, Grumman, Fought, and on and on……a sensory overload!!!
Lunch: Grab a hot meal, cold beverage, or tasty treat at the Flight Grill. Your lunch, snacks, and beverages are available in Hangar 1 behind the F-4 Phantom. Meal vouchers distributed at beginning of tour. (Be wary at noontime—one can lose precious time standing in line at the Flight Grill.)
Wear comfy shoes for the amount of walking you'll want to do to enjoy the sheer scope and size of the museum that includes gravel and sandy outdoor areas. There are also plenty of benches available when you need to take a break from going back to the aircraft at which you'd like to get a closer look.
Journey through the many exhibits in the hangers, like the Dorothy Finley Space Gallery, where you'll see a moon rock and replicas of rocket ships, or the B-17G, housed in the 390th Memorial Museum.
Listening to the stories of the veterans of the 390th is something very special, bringing history to life. Note: If we are lucky enough on this LLL Trip, we may be able to hear Col. Richard Bushong, a member of the 390th Bomb Group (H), B-17 Flying Fortress bomber copilot and pilot, share stories and answer questions about all his missions and years in service. He's 99 years young, and is normally there every Thursday—an experience not to be missed.
For more information: Pima Air & Space Museum
Note: Where comfortable shoes for walking to explore the numerous exhibits. Bring appropriate wraps or jackets for the weather.
Registration limited to two (2) per event, for each LLL user account.


EVENT DATE/TIME: Thursday, Jan. 26, 7:00 a.m. to 5:30 p.m.
COST: $120
MAXIMUM: 38