Second LLL Trip to St. Vincent de Paul Is a Volunteer Opportunity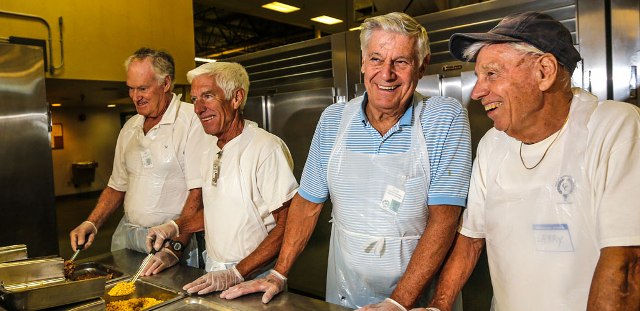 After LifeLong Learning's past visit to observe the activities at St. Vincent de Paul in downtown Phoenix, many said they'd like to go back this year to volunteer. On Friday, March 30, we'll have the chance to do just that, seeing how the multi-faceted organization works from the inside.
The mission of the Society of St. Vincent de Paul is to clothe, feed, house and heal their neighbors in need. Those four simple words, however, do not even begin to cover how St. Vincent de Paul impacts the greater Phoenix community, from the homeless to the working poor.
Our day will begin with a tour of the downtown St. Vincent de Paul service center, which houses the services of delivery of food to the entire Phoenix area, homeless ministries, medical and dental clinics, dining rooms, an urban farm and a dream center. We will learn about St. Vincent de Paul's five dining rooms in the Greater Phoenix area that serve hot, sit-down meals to 3,500 people a day, prepared in one of the largest industrial kitchens, using much of the produce from the St. Vincent Urban Farm.
After a break for lunch at China Chili, we'll return to St. Vincent's to make pizzas that will be served during an upcoming meal.

The Society of St. Vincent de Paul began in Paris, France, in 1833, when a young law student at the Sorbonne, Frédéric Ozanam, was challenged during a debate to demonstrate what he and his fellow Catholic students were personally doing to help the poor in Paris.
Today, 65 years after the first meeting of the Phoenix Diocesan Council for the Society of St. Vincent de Paul, the Society has 89 Conferences of Charity, over 2,500 active and associate members and more than 6,000 volunteers.
For more information visit:
DATE / TIME: Friday, March 30, 8:15 a.m. - 4:30 p.m.

COST: $30
MAXIMUM: 25