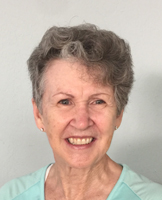 We have certainly had a busy fall season, and the spring season is even more packed with great educational offerings. Brian Shul, our Premier Lecture speaker on flying the world's fastest spy plane, was a wildly successful sell-out, and he received wonderful reviews. This spring, our lecturers include Mark Twain (not the real one), The Arizona Republic's Dennis Wagner to talk about the Wall at our southern border, a history of the Beatles, updates on medical marijuana, and many more.
In January, classes kick off with Artisan Bread, Critters in our Desert, Drumming and Meditation, and four nine-week sessions of Great Decisions. The free programs LifeLong Learning provides to the community continue with TED Talks, PC Reads and the Sunday Series, which begins Jan. 27 with gospel singer Candice Chavez. Trips, always popular, kick off in January with a trip to Luke AFB, after celebrating in December with Holidays at the Mansions, and the Arizona Culinary Institute tour.
There is so much that LifeLong Learning offers to our PebbleCreek community. We couldn't do it without our dedicated volunteers and the generosity of donors in the community, whose gifts help to keep our wheels turning.
As you consider your year-end giving, we hope you will consider LifeLong Learning and all the pleasure and education you've gained from our programs. Your support keeps our programs affordable and enables us to continue to offer programs at no-cost to residents. LifeLong Learning is a 501(c)(3), so your donation is tax-deductible. You can donate online.
You can also support LifeLong Learning without direct donation by signing up for Fry's Community Award Fund, where a portion of every purchase at a Fry's store comes back to support LifeLong Learning. In addition, you can sign up for the Amazon Smile program, which also gives back a donation for every Amazon purchase. We cheer every time we see those delivery boxes in the neighborhood! You can get more information on this by going checking on the links above.

Mostly, we'd like to thank you for your support of LifeLong Learning, and we look forward to seeing everyone at some of our events from January to March.
Happiest of Holidays to all of you,

Cathy Lindstrom
President
LifeLong Learning at PebbleCreek