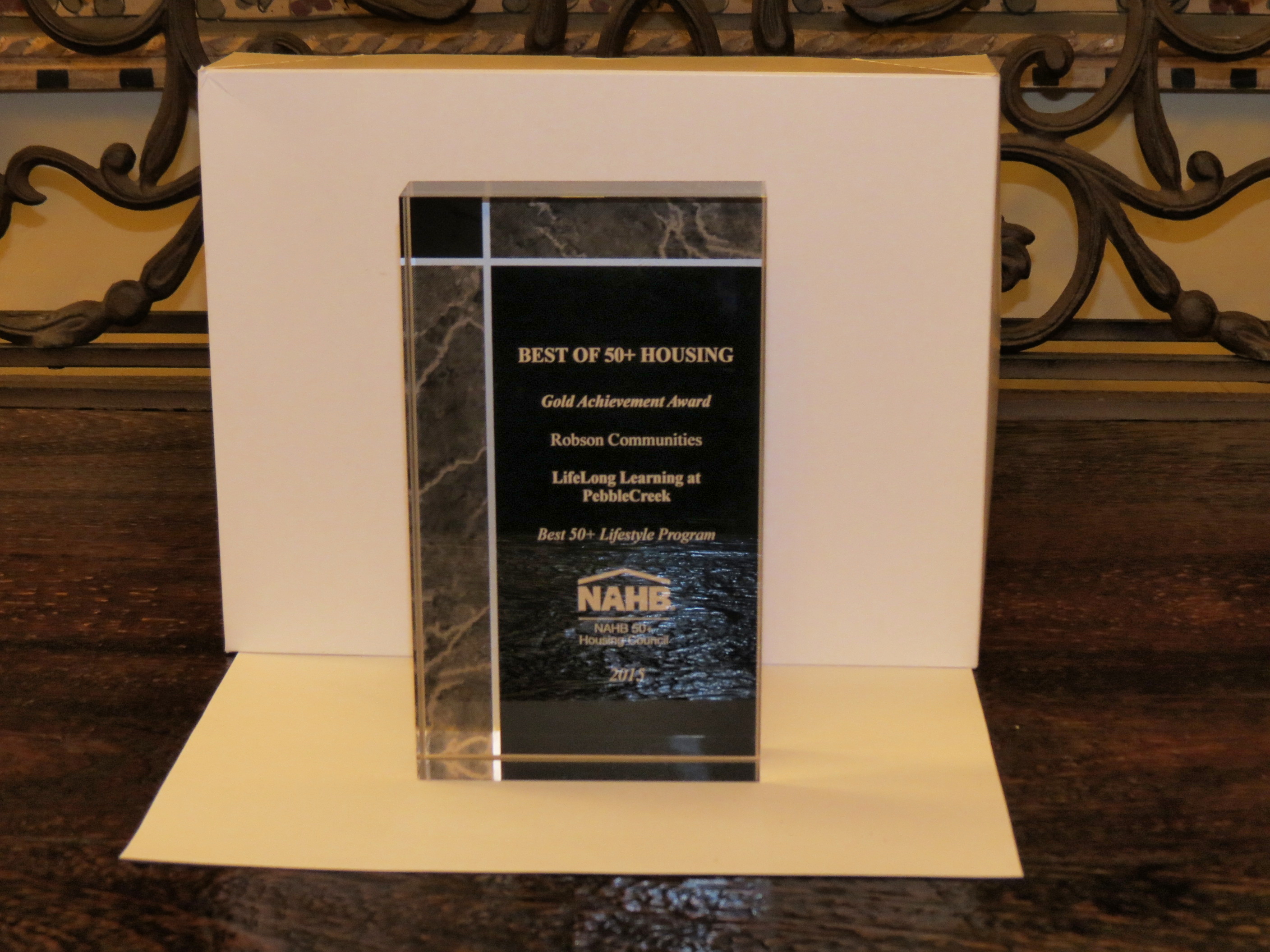 Donate Online Now
We hope LifeLong Learning has become an integral part of your life at PebbleCreek. Did you know that no other adult community in North America matches PebbleCreek's commitment to educational opportunities for its residents? Did you also know that LifeLong Learning received a reward in 2015 from the National Association of Home Builders for its "excellent and diverse programming?"
Since its inception in 2004, through its lectures, classes, trips and special programs, LifeLong Learning has continued to bring an ever expanding series of high-quality, educational programs to the PebbleCreek community. And we're not done yet! We keep striving toward new heights: for example, what began as three Monday Morning Lectures back in 2004 has grown into a multifaceted platform with sufficient credentials to bring the TED Talks venue to PebbleCreek in 2016. And now that LLL has got its "foot in that prestigious door," we look forward to expanding that venue every year as well.

LLL's goal is to fill a need not met through the other amenities we all enjoy. PebbleCreekers speak about keeping our minds alert, delaying dementia or bypassing it entirely, and enhancing our brainpower, despite aging. LifeLong Learning is a unique, inspiring, and frequently fun vehicle toward those goals!

And that's where you come in. Now, with our own home in the Activity Center, LifeLong Learning is envisioning what a comprehensive educational program can do for the community. There is so much we hope to do, from bringing more high-quality speakers to enhancing our literary offerings, and beginning a Sunday Series of afternoon programs, devoted to the performing arts.
This vision takes investment from supporters like you to dream and partner with us. And so we are launching the LifeLong Learning General Fund. One of our first goals is to complete the furnishing of the new LLL Center, so it can function as a small lecture room, as well as a classroom and office.
We hope you will become a friend of LifeLong Learning. Note that because we are a 501(c)(3) non-profit organization, your donations are tax-deductible.There are five levels of sponsors. Please give generously, so we can reach everyone at PebbleCreek with the programs that you have come to enjoy. Consider making a donation to honor someone special in your life or a special occasion or milestone. Or make a donation in memory of someone special.
DONOR LEVELS

| | | |
| --- | --- | --- |
| Laureate | | $1,000 and above |
| Summa Cum Laude | | $500-$999 |
| Cum Laude | | $250-$499 |
| Scholar | | $100-$249 |
| LifeLong Learner | | Up to $99 |
Last season more than $17,000 was donated to the LLL General Fund. (See donors online). To make a donation, please go to the donation form to make your contribution by credit card, check or PayPal. If you wish to be an anonymous donor, please indicate it on the form.
If you prefer to pay by check, please make it payable to LifeLong Learning and mail it to:
Ruth Shaffer, Treasurer
LifeLong Learning at PebbleCreek
3645 Clubhouse Drive
Goodyear, AZ 85395
We will send you a letter verifying your tax-deductible donation once we receive your check or credit card payment.
Have questions? Send an email to This email address is being protected from spambots. You need JavaScript enabled to view it..