LifeLong Learning is Back in Business
We are excited to offer NEW classes and lectures for PebbleCreek residents! We are rising to the challenge of the pandemic to provide educational and interesting programming. Our teams have exciting lectures and classes to offer you through the end of the year. Our programs will be delivered differently, but they will all be consistent with the quality that you have come to expect from LifeLong Learning. Our lectures and classes will be offered through Zoom, a leader in webinar and conferencing.
To assure you of a positive Zoom experience, we are offering classes to help you learn to use and enjoy Zoom. Our first Zoom 101 class is September 3. It is free but registration is required. There is more information about Zoom under the Virtual Learning menu tab. Lectures and most classes through the end of the year are FREE, but registration is required. Registration normally begins 30 days prior to most events.
The registration process has been streamlined this year and you will be pleased with how much easier it is. You will need a LLL account to register and if you do not have one, click on Sign Up on the right side of this page.
A glimpse of the fall Monday Morning Lectures coming your way:
Sept. 21 – To be determined
Oct. 5 – Operations at Palo Verde Nuclear Generating Station
Oct. 19 – Voting, the Pandemic and Election 2020
Nov. 2 – American Native / Native American
Here are a few of the classes that will be offered:
Nov 4. - Social Security Planning
Nov 5. – Technology Developments: Greening our World
Nov 19. –Goodyear at 75
Check back regularly! We will continue to add new classes and lectures throughout the season.
LifeLong Learning enters the world of virtual learning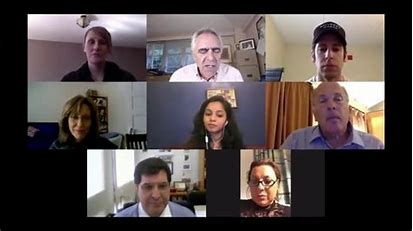 We asked, you answered and we listened!
Close to 80 percent of PebbleCreek residents who completed our survey are already using Zoom or other programs to meet with family, take classes and do other activities online. The survey showed us how online learning programs might be accepted. Click here to read the survey results.
In addition, more than 70 percent said they'd be comfortable in a virtual/online learning situation. The most popular programs would be lectures (90 percent) and classes (60 percent). In light of these findings, the LLL Board of Directors, which has been meeting virtually during the pandemic, decided to explore online/virtual learning.
"I was so pleased to see how many of our residents are open to learning more about using technology and online services," said Cathy Lindstrom, president of LifeLong Learning. "The pandemic has certainly opened us up to different ways of staying in touch. Thanks to everyone who completed the survey and gave LLL such useful information."
---
We need your ideas!
Do you know that some of the best programs, classes, lectures and trips offered by LifeLong Learning began when someone said, "What if we...."
PC Reads, the Sunday Series, and TED Talks are among the programs that started with an idea. And many of our most successful speakers and teachers came from ideas suggested by residents.
If you have ideas about trips or classes, please send them to
This email address is being protected from spambots. You need JavaScript enabled to view it.
and we will send them to the appropriate team. See below for more specific ideas for lectures.
Know a great speaker?
If you know of a great speaker who might be of interest to our community, the LLL Lecture Team would love to hear from you! Residents have recommended many speakers for Monday Morning and Premier Lectures. The LLL Lecture Team is always open to your suggestions.
See the speakers who were suggested by residents for this season.
Speaker-recommendation forms are available online and in the LLL Center. We ask for some basic information on the speaker you are recommending.
When you have completed the form, you can SAVE the form as a PDF and then email it to Lorna Bray at This email address is being protected from spambots. You need JavaScript enabled to view it. or PRINT it and bring it to the LLL Center.
The lecture series has been a successful and enjoyable program, and would not be possible without the help of the PC community.
Here are some of the things we look for in a speaker:
Speaker Traits
Knowledgeable in area of expertise.

Engaging and dynamic with excellent speaking skills.

Previous speaking experience for the purpose of educating, inspiring, entertaining.

No political, philosophical, or religious "agenda."
Topics
We are looking for educational topics that will challenge and stimulate attendees and open minds to new ideas or points of view.