LifeLong Learning enters the world of virtual learning

Read the survey results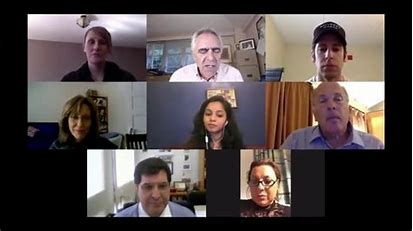 We asked, you answered and we listened!
Close to 80 percent of PebbleCreek residents are already using Zoom or other programs to meet with family, take classes and do other activities online, according to a recent survey by LifeLong Learning to gauge how online learning programs might be accepted.
In addition, more than 70 percent said they'd be comfortable in a virtual/online learning situation. The most popular programs would be lectures (90 percent) and classes (60 percent). In light of these findings, the LLL Board of Directors, which has been meeting virtually during the pandemic, has decided to explore online/virtual learning for the summer and coming season.
"I was so pleased to see how many of our residents are open to learning more about using technology and online services," said Cathy Lindstrom, president of LifeLong Learning. "The pandemic has certainly opened us up to different ways of staying in touch. Thanks to everyone who completed the survey and gave LLL such useful information."
Instead of watching movie reruns or playing solitaire, why not take a tour of hard-to-reach Arizona landmarks, visit one of the world's finest museums or take a class about something you've never learned before?
In this time of COVID 19, LifeLong Learning continues its mission to bring high-quality learning opportunities to the residents of PebbleCreek.
While we will begin virtual learning classes later this summer, in the meantime we hope you'll visit these sites and, if you have any suggestions, please forward them to us at This email address is being protected from spambots. You need JavaScript enabled to view it.And check back often as we're continually adding resources.
Please follow these links:
Here you'll find links to the major categories of learning opportunities as well as the reason LifeLong Learning is now cataloging virtual/online programs.
Visit some of the Phoenix area attractions (many of which have been the focus of LLL trips) and others around Arizona, watch drone tours of area lakes, learn about Arizona's history and geography and listen to the symphony.
Watch an opera, listen to the symphony, visit a museum or even take an online painting class.
Take a free Ivy League college class, explore the offerings of EDX, or start a free one-month trial of the Great Courses.
Listen to talks by the staff of Taliesin West, the Lowell Observatory or the Musical Instruments Museum, explore the fascinating offers of TED Talks, or watch discussions between experts and staff of the New York Times and Washington Post.
Visit famous sites around the world from the comfort of your home and watch drone tours of our National Parks.
We need your ideas!
Do you know that some of the best programs, classes, lectures and trips offered by LifeLong Learning began when someone said, "What if we...."
PC Reads, the Sunday Series, and TED Talks are among the programs that started with an idea. And many of our most successful speakers and teachers came from ideas suggested by residents.
If you have ideas about trips or classes, please send them to
This email address is being protected from spambots. You need JavaScript enabled to view it.
and we will send them to the appropriate team. See below for more specific ideas for lectures.
Know a great speaker?
If you know of a great speaker who might be of interest to our community, the LLL Lecture Team would love to hear from you! Residents have recommended many speakers for Monday Morning and Premier Lectures. The LLL Lecture Team is always open to your suggestions.
See the speakers who were suggested by residents for this season.
Speaker-recommendation forms are available online and in the LLL Center. We ask for some basic information on the speaker you are recommending.
When you have completed the form, you can SAVE the form as a PDF and then email it to Lorna Bray at This email address is being protected from spambots. You need JavaScript enabled to view it. or PRINT it and bring it to the LLL Center.
The lecture series has been a successful and enjoyable program, and would not be possible without the help of the PC community.
Here are some of the things we look for in a speaker:
Speaker Traits
Knowledgeable in area of expertise.

Engaging and dynamic with excellent speaking skills.

Previous speaking experience for the purpose of educating, inspiring, entertaining.

No political, philosophical, or religious "agenda."
Topics
We are looking for educational topics that will challenge and stimulate attendees and open minds to new ideas or points of view.

We are open to lectures on a variety of topics.