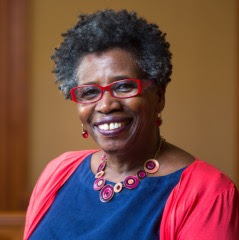 What is the difference between Civil Rights and Human Rights? Does one relate to or influence the other? Who were all the heroes of the Civil Rights Movement and do they have any role in worldwide global rights? Stanlie James, Ph.D., author and professor emeritus at ASU, will explores the role Black women played in not only the Civil Rights Movement but the bigger global human rights environment. Learn how the actions of a few changed the lives of millions in the United States and throughout the world.
Please join Stanlie James on Monday, March 6, 10:00 a.m., to find out how these women may have changed the life of a friend or ancestor by refining and implementing rights for the global good.

Tickets to the lecture are $5 each and will be available in the lobby of the Renaissance Theater beginning at 9 a.m.

Additional information:
2016-2021 Vice Provost for Inclusion and Community Engagement (Arizona State University)

2009-2016 Faculty Lead, African and African American Studies in the School of Social Transformation; Professor in African and African American Studies; and Women and Gender Studies, ASU

2006-2009 Director and Professor African and African American Studies Program; also affiliated with Women and Gender Studies, ASU

2002-2006 Professor Afro-American Studies Department and Women Studies Program; affiliated with African Studies Program, University of Wisconsin, Madison
1989 Ph.D.
1984 M.A. Graduate School of International Studies, University of Denver (Areas of concentration: Comparative Politics, Human Rights, Africa, Dissertation: "Black Feminism: A Comparative Study of Women in Ghana and the United States"
M.A. 1972 School of Oriental and African Studies (SOAS)

More information about Stanlie James