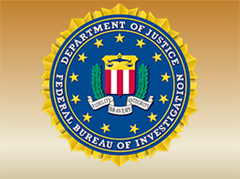 How does the FBI identify possible terrorists, both in the U.S. and abroad?
At 10 a.m. Monday, March 11, a special agent on the FBI's terrorism task force in Phoenix will explain the methods the FBI uses to protect the U.S. from terrorist attacks.
Following the events of 9/11, preventing terrorist attacks became the top priority of the FBI. The bureau works with a range of partners to neutralize terrorist cells and operatives here in the U.S., help dismantle extremist networks worldwide and cut off financing and other forms of support provided to foreign terrorist organizations by terrorist sympathizers.
In Phoenix, as in all FBI locations, the FBI leads a Joint Terrorism Task Force that brings federal, state and local agencies together on one team, allowing members to leverage one another's skills, authorities and accesses to prevent and disrupt terrorist attacks across the country. The JTTFs also build relationships between the community and law enforcement on the front line, which is particularly important to combating terrorism.
The FBI is always a popular lecture and we urge you to arrive at the Renaissance Theater early to assure seating.
Tickets to all Monday Morning lectures are $5 at the door of the Renaissance Theater.
For more information, visit: