A cruise, a visit to a ghost town and dinner
Sold out - register for waitlist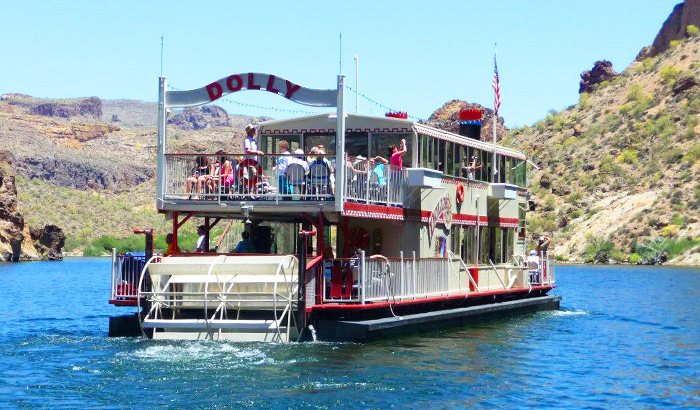 Take a tour on the wilder side of Arizona with a visit to Goldfield Ghost Town and Dolly Steamboat Nature Cruise, and then have dinner at Superstition Saloon in Tortilla Flat. Walk down Goldfield's Main Street, recreated from an actual gold mine town from the 1890s, and explore the many shops, historic buildings, and on-site museum. (Note: Gunfighters only on Saturday and Sunday.) Take a tour of the historic Mammoth Gold Mine and stop in the saloon for a bite to eat or get a "dynamite" ice cream before we continue our scenic drive along the historic Apache Trail (SR-88)...a former Apache Tribal route turned stagecoach road, where cowboys and miners once traveled.
You'll enjoy stunning desert scenery on the journey to Canyon Lake where we board the old fashioned Dolly Steamboat for a nature cruise. Sit back, relax, and take in the gorgeous views during this 90-minute, 6-mile cruise. You may see desert bighorn sheep, bald eagles and a host of other animals and local wildlife. (Suggestion: Bring a hat and binoculars so you don't miss the amazing views.) A snack bar is available on board with water, sodas, snacks and alcohol. Please keep in mind that it is cash or check only.
After the narrated lake cruise, we'll head to dinner at the Superstition Saloon in Tortilla Flat, a genuine, wild west town and former stagecoach stop. Check out the town's schoolhouse-turned-museum to learn the history of Tortilla Flat, see the relics on the walls of the famed saloon, visit the General Store and Post Office, or try a scoop of their famous prickly pear gelato...if you still have room after dinner. With a population of only six, they strive to preserve the town's history and continue its legacy for another 100 years.
WAITLIST: If an event has sold out, be sure to add your name to the waitlist by registering for the event.
Registration limited to two (2) per event, for each LLL user account.
EVENT DATE/TIME: Tuesday, Feb. 21, 10:15 a.m. - 7:30 p.m.
COST: $100
MAXIMUM: 48