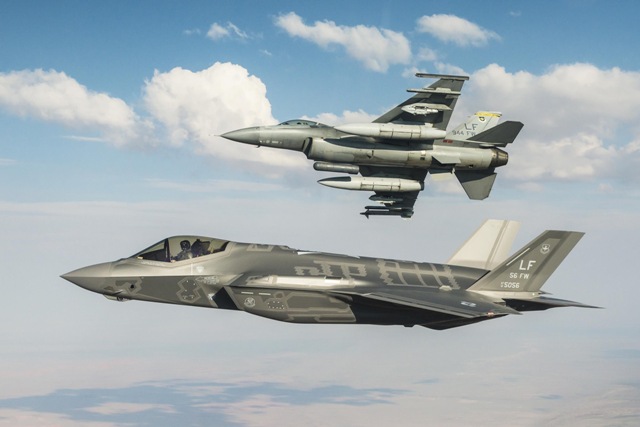 Visit Luke Air Force Base, your neighbor to the north, to learn about and view the F-35 and F-16 fighter jets that roar over your rooftop, as well as discover other base activities and exhibits.
Luke is home to the 56th Fighter Wing, the largest fighter wing in the U. S. Air Force. As part of Air Education and Training Command and home to 27 squadrons with both F-35A Lightning II aircraft and F-16s, the 56th graduates 105 F-35 pilots and 188 F-16 pilots annually, plus 244 trainees per year in medical and other disciplines. The base population includes about 3,740 active-duty military personnel, 1,740 reserves and 920 civilians.
The wing is also responsible for three additional squadrons under the 54th Fighter Group, located at Holloman AFB, New Mexico, where F-16 training will move as Luke AFB transitions to become the sole pilot training center for the F-35A, the Air Force's newest, multi-role aircraft. Additionally, the 56th Fighter Wing oversees the Gila Bend Air Force Auxiliary Field and is steward of the Barry M. Goldwater Range, a military training range spanning more than 1.7 million acres of Sonoran Desert.
Due to security protocol, specifics about your behind-the-scenes tour must remain "classified" until you "report for duty." You'll enjoy a buffet lunch in the all-ranks club on base, before returning to PebbleCreek.
NOTE: To accommodate the Luke AFB tour's popularity, LLL is allowing only first-time guests to register this tour season. Please be respectful of your neighbors who have been put on a waitlist in previous years.
Prior to the trip, you must provide LLL with a government-issued photo ID so that Luke can complete a security clearance. You will also need to bring that ID with you on the trip. If you are not a U.S. citizen you must provide your passport. A driver's license is sufficient for U.S. citizens. More details will be provided after you register for a trip.
NOTE: Once registered, your cut-off date for cancelling or selling your spot to another guest is five weeks prior to your tour, as Luke staff must complete visitors' background checks in advance of the trip.
COST: $55
MAXIMUM: 30